THE MARSHALL HOUSE
ADA Statement, Accessibility, & Features
At The Marshall House, we are dedicated to providing exceptional service to all of our guests, including individuals with disabilities. We strive to ensure that all persons have access to the goods, services, privileges, advantages, and accommodations offered by our hotel and its website. Further, we endeavor for all of our guests and patrons with disabilities to have the ability to make informed decisions regarding their visits by providing sufficient information regarding the accessibility of our property.
WEBSITE:
It's important to us that our website is accessible and easy to use for all persons with disabilities. When creating our website, our development team used software tools to identify web accessibility standards as outlined by the World Wide Web Consortium's Web Content Accessibility Guidelines 2.0 Level AA (WCAG 2.0 AA).

While the industry is not operating from approved, regulated legislation, The Marshall House is committed to our good faith effort to follow the guidelines available. If you have questions, concerns or have discovered an accessibility issue on our site, please contact us by emailing innkeeper@marshallhouse.com. Be sure to include specifics and any page where an issue has occurred. We will make every reasonable effort to make the page accessible for you.
---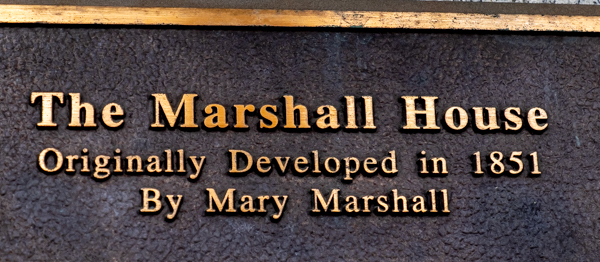 BUILT IN 1851
The Marshall House was originally built in 1851, and is registered with the Historic Savannah Foundation as an authentic historic property. Consistent with the architectural norms of the day, there are many steps inside Marshall House. We do have an elevator, and offer bellman and valet services to all guests, and are happy to help anyone who needs assistance.
---
PROPERTY ACCESSIBILITY FEATURES:
Accessible business center
Accessible guest rooms with mobility features with entry or passage doors that provide 32" of clear width
Accessible hotel restaurant
Accessible public entrance
Accessible route from the accessible public entrance to the accessible guest rooms
Accessible route from the accessible public entrance to the registration area
Accessible route from the accessible public entrance to the meeting areas
Accessible route from the accessible public entrance to restaurant
Accessible route from the accessible public entrance to the business center
Alarms - Audible
Valet Parking
Bathroom doors at least 32 inches wide
Grab bars in bathroom
Level or ramp entrance into the building
Public Areas/Facilities accessible for physically challenged
Service support animals welcome
Strobe alarms
Visual alarms for hearing impaired in hallways
Visual alarms for hearing impaired in public areas

Room Accessibility Features
Please visit our Guest Rooms Page for more details on individual room accommodations and accessibility features, or you may call 800-589-6304 and inquire with the general manager of the hotel.

Contact
If you experience any difficulty accessing or navigating our website or have any accessibility-related questions or comments, we are here for you. Please do not hesitate to contact us:
By Email: innkeeper@marshallhouse.com
By Phone: 800-589-6304
By Mail: 123 E. Broughton Street, Savannah, GA 31401